Cryptomnesia (2020)
Pivio
I dischi dell'espleta – ESP073
CD, Digital
Travel notes by Pivio:
"Today is May 29th, 2020
On February 24th of this year Fahrenheit 999 was released, the record of the return of Scortilla, the band I founded together with Marco Odino, 40 years after their debut on a stage. Never a title could have been more prophetic… within a few hours the situation in Italy and following all over the world would have precipitated into an abyss from which we are trying to get up with much effort.
The next two and a half months have been a real nightmare for me. Seeing myself failing that network of physical human contacts on which I have always relyed had created a total artistic block, which I was not prepared at all. At first, every day I tried to jot down some musical ideas that were shortly aborted after a while. This up to 15 days ago.
Then something suddenly happened that I can't explain, as if Pandora's box had opened, letting out all the pain felt, all the physical and psychological fears accumulated during the so-called lockdown.
And in 15 days I wrote, played and mixed Cryptomnesia, my new solo album.
Fortunately on this journey in nine songs I found some friends who helped me to make this record even more personal and powerful: first of all my friend and companion in musical games Marco Odino who contributed with his lyrics to visualize my ghosts; then Massimo Trigona, extremely talented bassist present in Punished and The story that ends all stories, Gianpiero Lo Bello, always ready to give magic with his trumpet in Seclusion I wear; Roberto Piga and Luca Pirondini, respectively violin and viola in Mask; and Shankar, the most ethnic sign found in Cryptomnesia. And I obviously have to thank Dario D'Alessandro who, unbeknownst to him, allowed me to find the title of the album, Mike Harakis who allowed me not to slide on the dangerous ground that can be a language not yours, in this case English, and finally Roberto Molinelli to whom I asked to visualize the meaning of this operation with one of his artistic works.
All the titles on the disc start from suggestions related to the words used and abused in this period, often with the typical rhetoric in which the political and information world swims with extreme ease, especially in moments of extreme social difficulty such as what we just suffered. But all the songs actually deal with topics that have little to do with what would seem to be the object referred to by the title. In short, a form of mine, public and private at the same time, to exorcise the darkness caused by the virus, all facing other types of darkness.
Because darkness hides in places as insidious as a pandemic virus."
A well-suspended time 6:01
Cryptomnesia 4:50
Blood like love 6:29
I am smarter than U 5:51
Mask 5:02
Punished 5:17
Resistance is futile 3:27
Seclusion I wear 5:55
The story that ends all stories 6:21
1, 2, 3, 5, 6, 7 (Pivio / M.Odino)
4, 8, 9 (Pivio / M.Odino – Pivio)
Published by Creuza S.r.l.
Pivio: voice, backing vocals, arp2600, mellotron, piano, electric guitar, daf, percussions
Shankar: violin in 2
Roberto Piga: violin in 5
Luca Pirondini: viola in 5
Massimo Trigona: electric bass in 6 e 9
Gianpiero Lo Bello: trumpet in 8
Mixed and produced by Pivio
Mastered by Massimiliano Nevi at BitBazar Studio (Roma)
Rita Giacalone: artworks
The mask "The mole" (2005) by Roberto Molinelli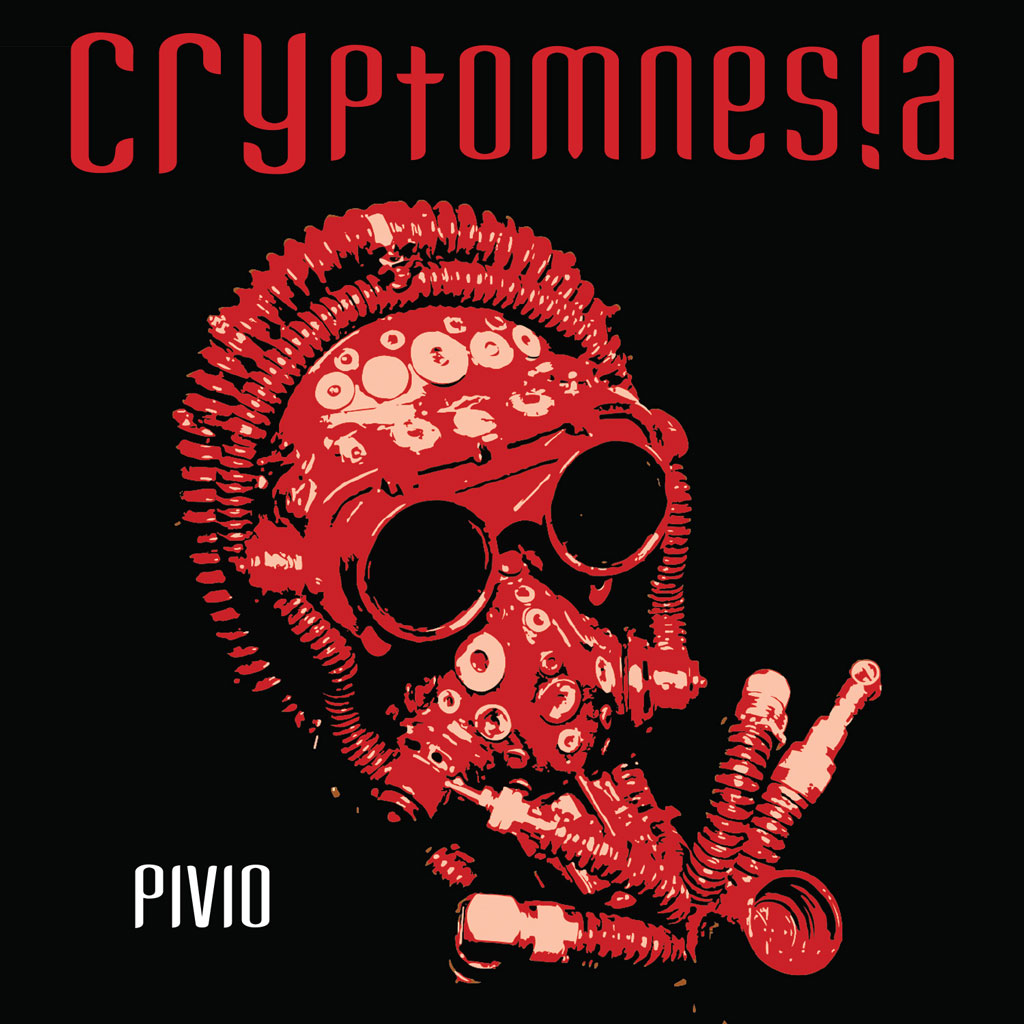 A well-suspended time: everything starts from what in full lockdown had become a kind of magic formula, suspended time, and a play on words with H.G. Wells, a writer known for his novels where the concept of time is continuously expanded and distorted.
Cryptomnesia: it is the disturbance of memory in which memories appear as original creations. How many times has it happened to me that I thought I had written original songs and then I realized, fortunately always in time, at least I think, that they weren't.
Blood like love: when the desire for love begins to merge with hunger (physical hunger, not that of feelings). Here's what can happen.
I am smarter than U: in the distant past, as it appears to me at least now, I worked as an electronic engineer and, I'm talking about a little less than forty years ago, I was a staunch defender of remote work, what everyone now improperly call "smart working". Words are important and the use made of them is important too.
Mask: the mask has always been one of the best defenses against the outside, not only from the physical point of view, but also because it allows us to hide our most obvious expressions which are the manifestation of our emotions.
Punished: this title too starts from a play on words that only makes sense in Italian. How unbearable rhetoric behind the other magic formula "United we will make it", when, at least for me, the feeling experienced during the toughest phase of the pandemic was that of an unwanted punishment, and here we will be punished (maybe) – to better explain: the word game in Italian is about "(P)unito", anyway, forget it, it's not important…
Resistance is futile: They told us in all possible ways in the audiovisual world: from Time Lord (in Doctor Who), passing through the Dorcons (in Space: 1999), the Borg (in Star Trek) to get to Galactus (in the Hulk). The problem is that we don't want to learn the lesson (and we do well), also and above all in the sphere of feelings.
Seclusion I wear: isolation may not only be physical but also spiritual, and it is not necessarily an involuntary choice to stay away from the outside world.
The story that ends all stories: the title is inspired by a story by Philip K. Dick. Even a simple lullaby can soothe the pain and bring you to a more peaceful sleep, despite the fear for a future that appears increasingly uncertain.